ASHA IDOL – November 17th 2018
We are excited to open our 2018 ONLINE REGISTRATION FORM beginning Saturday, September 8th.
REGISTRATION WILL CLOSE On October 28th or earlier if we reach our capacity.
Please ensure you have read the RULES to the competition prior to registration.

TICKETS are available ONLY ONLINE and will NOT be available at the gate.
REGISTRATION LINK: http://goo.gl/TKxA2A
RULES: http://goo.gl/LL1Gi4
TICKETS: http://goo.gl/kGBHHg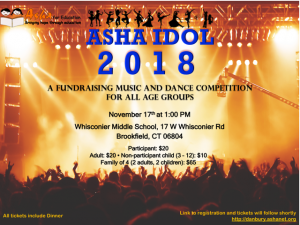 NIGHT OF HOPE – December 8th 2018
Tickets are available for purchase. Buy Tickets