If you would like to volunteer with us, send us an email at: danbury.events@ashanet.org
WAVES OF HOPE:
Date: Sunday, Nov 5, 3-8 pm
Click here to submit registration by Wednesday, Oct 25 to sing in the karaoke.
Tickets: Click here to purchase tickets.
$35: Adult
$15: Student
Donation packages: Click here to donate.
$100: Patron sponsor seating for 2
$250: Supporter sponsor seating for 2
$500: Partner sponsor seating for 2
$1000: Champion sponsor seating for 4
$2000: Grand sponsor seating for 6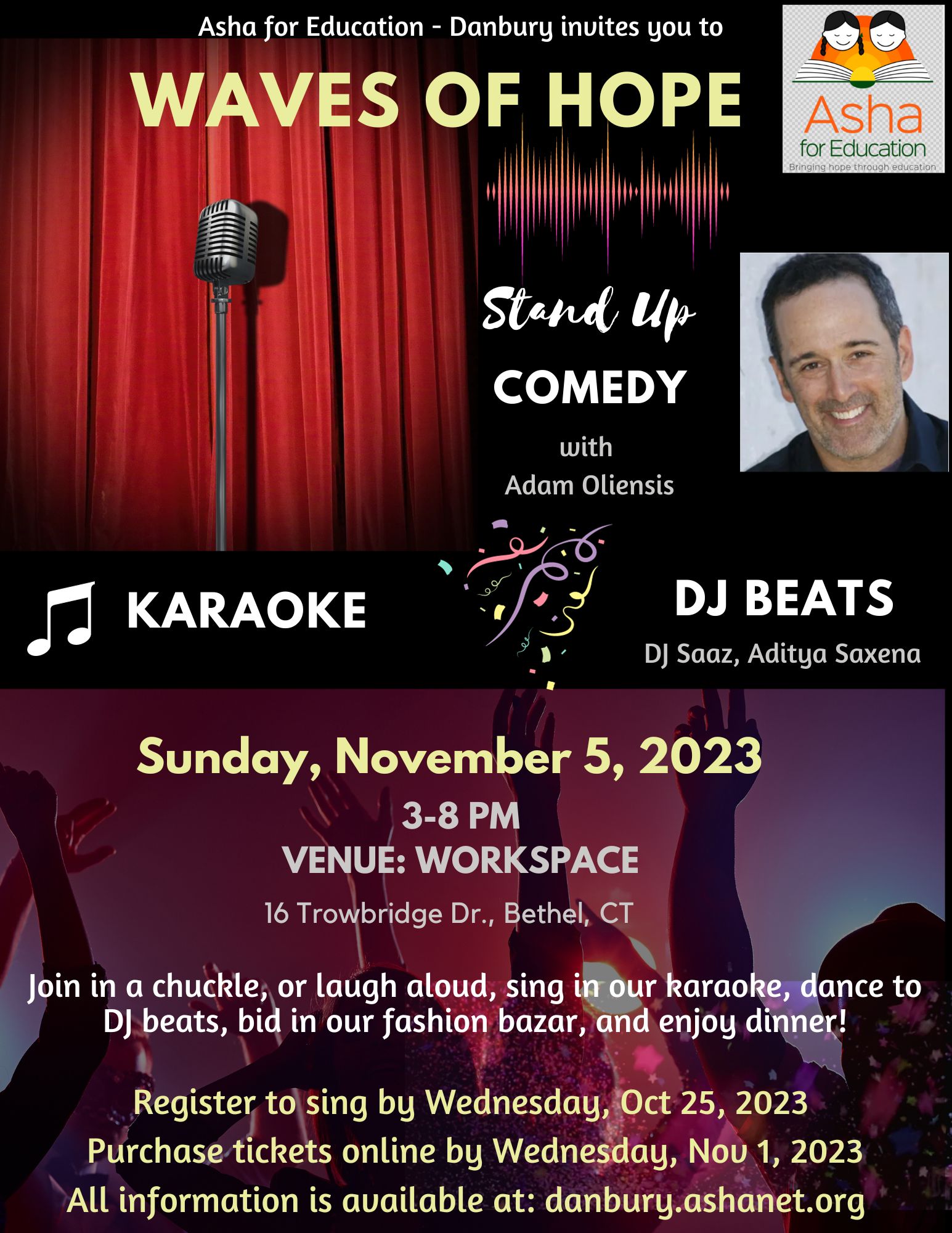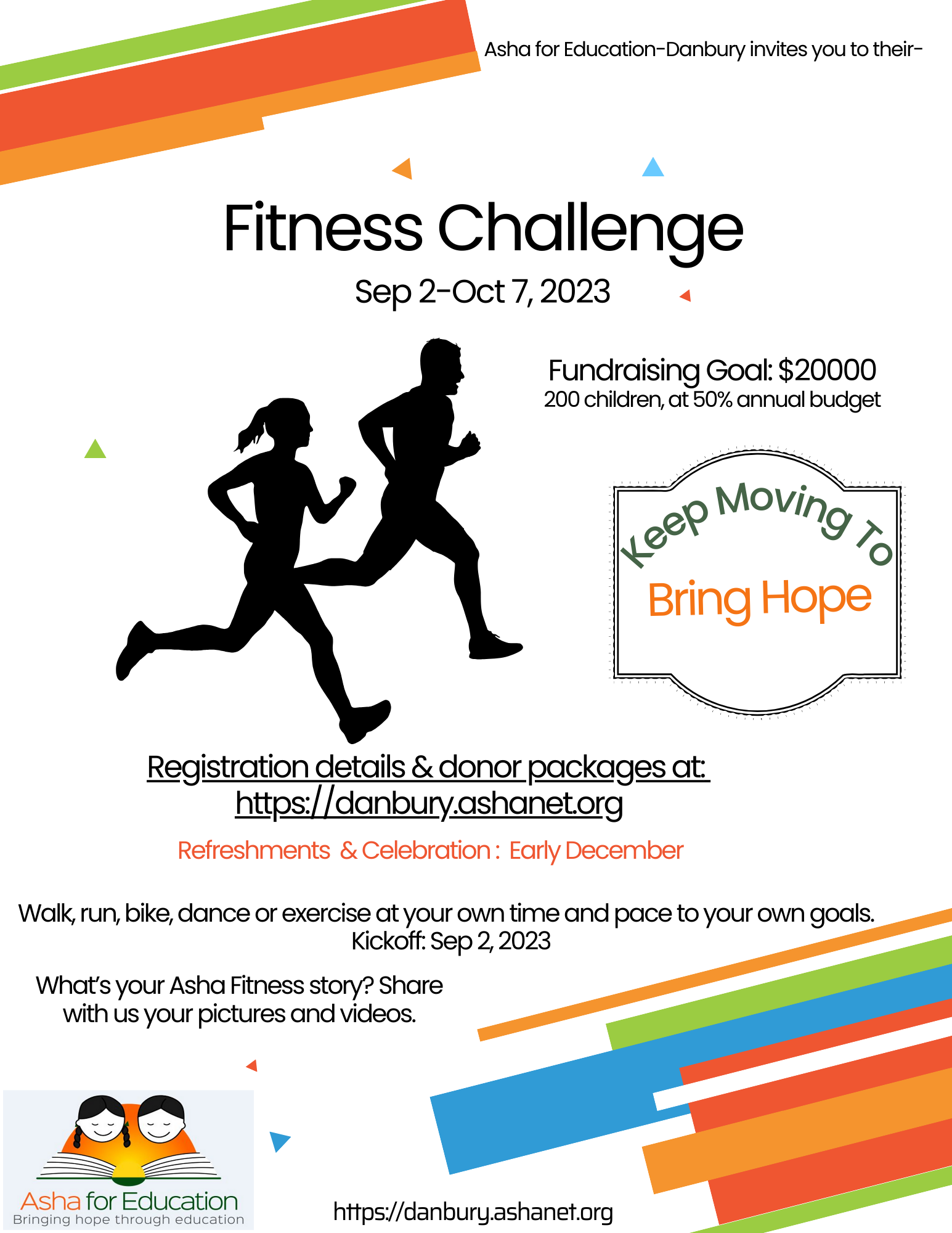 REGISTRATION AND DONATION DETAILS:
To participate in the challenge,
1. Click on the registration link below to complete the registration form
2. Select a donation package. Make the donation using the donate link.
Friend of Asha, $25
Covers registration for 1 person and includes 1 complimentary Asha T-shirt
Asha Patron, $100
Covers registration for up to 2 people and includes 1 complimentary hoodie and 1 T-shirt
Donors will be acknowledged at the celebration event
Asha Supporter, $250
Covers registration for up to 2 people and includes 2 complimentary Asha hoodies
Donors will be acknowledged at the celebration event
Asha Partner, $500
Covers registration for up to 2 people and includes 2 complimentary Asha hoodies and 1 Fanny pack;
Also Includes 1 entry to November fundraiser event
Donors will be acknowledged at the celebration event
Asha Champion, $1000
Covers registration for up to 4 people and includes 2 complimentary Asha hoodies and 1 Small Gymshark duffle bag; Also Includes 2 entries to November fundraiser event
Donors will be acknowledged at the celebration event
Asha Grand Sponsor, $2000
Covers registration for up to 6 people and includes 2 complimentary Asha hoodies and 1 Medium Beis sport duffle bag; Also Includes 2 entries to November fundraiser event
Donors will be acknowledged at the celebration event
What will you need to do to participate?
1. We will be using the Stridekick app for this challenge.
2. Download the 'Stridekick Activity Challenges' app on your iphone at https://apps.apple.com/us/app/stridekick-activity-challenges/id1484402218 or android at Check out "Stridekick Activity Challenges"
3. Using the sync-up feature, sync up your walk and run "steps" data to the Stridekick app from the default 'Health' app on your phone or a connected device (example, Apple Watch, Fitbit).
4. That's it! Take your phone or connected device along when you walk or run, and watch your steps grow! Enjoy the virtual or real walk alongside your friends and family.
An Asha administrator will add you to a Team as you get started so you are not walking alone! When you submit your registration, you will have an option to be in this challenge as an individual or as a team.
Would you like to share your Asha Fitness story?
Miles that you have conquered, catching up with friends, or perhaps hiking some beautiful trails with family! Share your experience & inspiration with us on social media with pictures and video clips. The 1-month challenge will run through Oct 7, 2023 to account for Labor day weekend and any delays in getting started. We will have a small celebration in early December 2023.
Charity Navigator
Asha for Education is one of top 6 organizations rated by Charity navigator as "supporting safety nets of our society and protecting the vulnerable in the pandemic"